After my neighbors (I thank God for them!) helped me dig out, I went to the grocery store and restocked my food supply and spent a lot of time on the computer looking at pictures of the snow on social media and watching the weather to get snow totals. (We ended up with about 36 inches!) I saw a post on Facebook from the Raptor Education Group in Antigo, Wisconsin, that explained what was happening to migratory songbirds that had returned to the Midwest before the blizzard struck.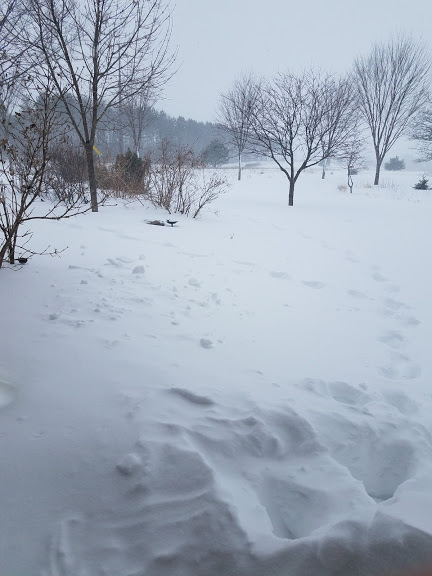 The Group advised readers that birds which allowed people to approach them were in trouble. They were freezing to death and had nothing to eat. I immediately filled our feeders with sunflower seeds, thistle seeds, and suet for the variety of birds we get here and put out frozen fruit for the robins and other fruit eaters. The hardiest of birds ate and survived, but some didn't as I was soon to find out.
As Stella and I took our daily walk, I kept my eyes open for animals of all kinds in distress. About a mile from home, I saw a bird sitting atop a snowbank on the side of the road. I took a couple of steps toward it, but it didn't fly away. Stella bounded over to it to make friends. It didn't move, even when she was nose to beak with it. It was in trouble. I couldn't let it die there, so decided to pick it up. When I cupped my hands around it, it tried to hop away but was too weak. I rested my thumb over its feet to keep it still, unzipped my parka, and nestled it against my stomach to keep it warm, then zipped the jacket up as far as I could.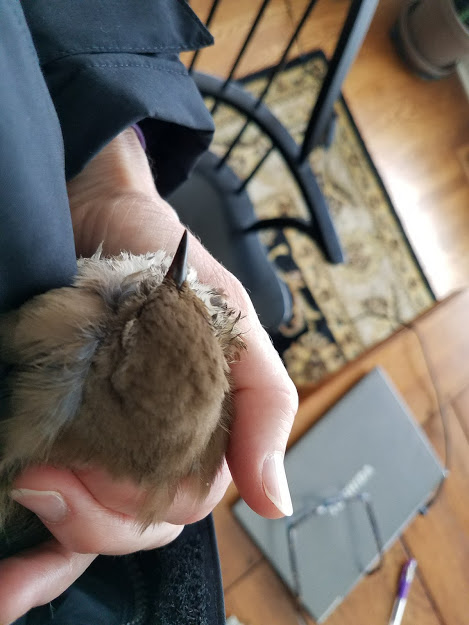 I hoofed it back home and called the Raptor Group. The lady I spoke with asked me to take a picture of the bird. She identified it as a hermit thrush, an insect eater whose song I'd often heard on my long, country walks.
She instructed me to gather a small box, a towel, and a heating pad to make a warm place for the bird to rest. The lady also told me to give the thrush water if I could coax it to take some. She said someone in Wisconsin Rapids could bring the bird to Antigo the next day if it survived the night. All I had to do was to keep the bird alive until then.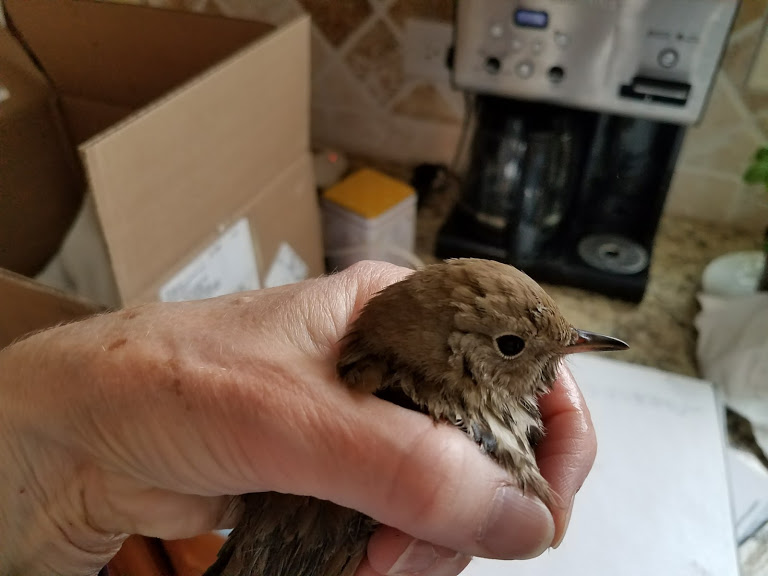 I did as the woman said and tried to give the bird some water, which it wouldn't take. I turned the heating pad on low and set it in a box covered with a towel to make a warm little home for the thrush. I carefully put the bird in the box and closed the lid so it remained calm and warm. When I checked on it a couple of hours later, however, it had died. I called the Raptor Center again and let the woman I had spoken to know what had happened. She said it must have been too far gone to survive.
That little bird's death pained me more than I thought it would. It seemed a symbol of more than just the cruelty of nature. I felt a kinship with that tiny creature. We both were trying to survive in an inhospitable place, where unwanted snow, instead of flowers and leaves, arrives in the middle of April. Just as I did during that  unexpected blast of winter, I'm sure that sweet-voiced creature wished for the warmth of its southern home.